Did you know that we do bike rack installations and we can plan your bike room or secure bike storage and parking for your workplace or condominium? We just finished one in the Chicago Loop and are excited to see building tenants use the new space to securely store their bikes.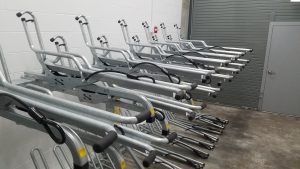 It's unfortunate that bike theft is high and too many people don't ride to work or for fun because of a lack of secure parking for their bicycle. By adding a secure bike rack, bicycle room, or other safe bike parking solution, you are allowing for building workers and tenants to reduce their environmental impact, reduce traffic congestion, and be a promote a healthier workplace and lifestyle.
We've been running the McDonald's Cycle Center (located in Millennium Park) since 2004. This is a first-of-it's-kind facility in the US and since being built in 2004, other cities like Santa Monica and Cincinnati have created similar bike parking facilities. The McDonald's Cycle Center has secure indoor bike rack space for over 300 bikes in addition to showers, lockers, and a full service shop.
Of course, this won't do you any good if you aren't in the area around 239 E Randolph St. in Chicago.
Our sister company Bike & Park offers free initial consultation services and can provide a great place for your bicycles within your business or condominium.
Take a look at our most recent bike rack installation – here's before:
And after – This double-tier bike rack option is very popular and can fit almost twice the number of bikes:
Contact us at info@bikechicago.com to schedule a site visit and free bike rack and secure parking consultation today.