The Commuter Bike Loaner Program aims to increase the number of people who commute by bicycle in Chicago. The McDonald's Cycle Center provides all the necessary equipment and support for new riders to experience the joy of bike commuting as well as a trial membership at the Cycle Center.
The McDonald's Cycle Center offers year-round bike parking during normal business hours.  Parking for the full day for $5 per bike (with shower/towel included). Monthly, Quarterly, and Annual access memberships available, as well.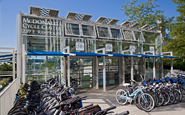 Bike & Park is happy to lend its years of experience with operating the largest secure bike parking facilities in the U.S. to assist your city, institution, company or property in becoming more bicycle friendly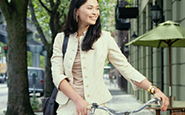 We offer a full range of services every day of the week from flat repairs to tune ups, and you can typically expect same day turn around unless special parts or services are needed.  Mechanics are in the shop daily between 10am – 6pm, Monday through Friday. Click here to learn more about our repair and maintenance services.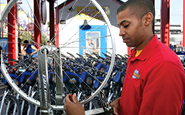 Bike Education Classes
The McDonald's Cycle Center has partnered with Sustainable Streets to offer education and encouragement programs to promote sustainable active transportation. Classes fill up quickly so get registered now for an upcoming class.