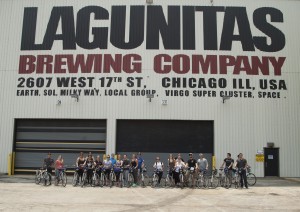 The Bike and Brewery tour is an exclusive tour being offered by Bike and Roll this summer. The tour currently runs only on Wednesdays, Thursdays and Fridays. On this tour you'll explore through neighborhoods like the Prairie Mansion District, Chinatown and Pilsen. All of which are unique and exciting in their own way. At each of these neighborhoods you will stop by various popular restaurants and sample dishes. The tour concludes with a tour of one of the largest breweries in the Chicago area, the Lagunitas Brewery. At the tour you are given samples of their well known craft beers and also a lot of facts about how the Lagunitas Brewing Company began and established success.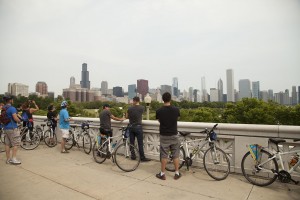 I was able to go on this tour myself on Friday June 12th to see what it was all about. The weather wasn't cooperating with us too much throughout the day but I don't mind a bike ride in the rain. Thankfully there weren't any severe storms on our ride.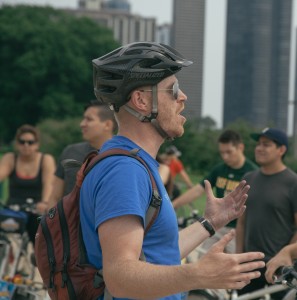 Our tour started off with a trip to Del Campos Tacos on 12th street beach. This is a hidden gem. This taco stand is right behind the Adler Planetarium and right in front of a small beach. David the owner/chef served us some of his steak tacos and they were delicious. He mentioned that he will be opening a location in Pilsen but for now you'll have to make to trip to 12th street beach to give his food a taste.
From there we visited the Prairie Mansion District near the south loop. This part of the city was the original "Gold Coast" of the city. Some of Chicago's most elite residents owned homes in this part of the city. Many of the homes now have been restored while others have been declared historic landmarks. Marshall Fields and George Pullman were two people who were residents to this area. Al Capone also spent some time in this district.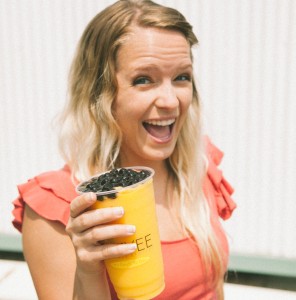 After visiting the Prairie Mansion District we took a trip into Chinatown. Chicago's Chinatown was designed to resemble Beijing. It is one of the largest Chinatown's in the country. There are a lot of restaurants, grocery stores and gift shops in the area. In addition there were also a lot of services that cater to the Chinese culture.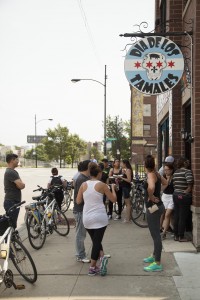 Once we were done exploring Chinatown we headed to Pilsen. Pilsen is a well known Latino neighborhood. Our first stop in Pilsen was at Dia De Los Tamales. I tried the Cuban Slow Roasted Pork tamale. It was delicious. The workers there are very welcoming and help you out if you're not sure what to order. Go on the tour and you will see for yourself.
We made a quick stop at Carnitas Don Pedro after having some tamales. Carnitas is a Mexican dish originating in the state of Michoacán. The term carnitas literally means "little meats" and is made by braising or simmering pork. Carnitas Don Pedro is a very well known establishment in the Pilsen community. Long time residents of Pilsen always bring up this establishment. It has been in the community for over 30 years and hopefully it stays for many more.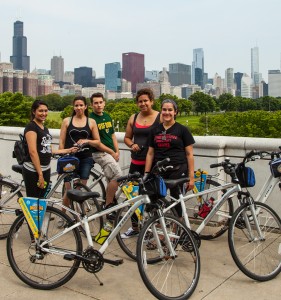 Our last stop in Pilsen before heading to the Lagunitas Brewery was at a well regarded Salvadorian restaurant in the area. The restaurant was named Pupuseria El Excelente. I had never had Salvadorian food previous to this. People have always recommended I try pupusas though. Pupusas is a traditional Salvadorian dish made with a thick homemade corn tortilla that is usually filled with cheese, beans and meats as well. The pupusas from this location were very delicious and they have received several excellent reviews on yelp!
Then we were finally on our way to the Lagunitas Brewery! The main entrance to the upstairs taproom was very colorful. It felt like you were walking into Willy Wonka's Chocolate Factory. Once everyone had arrived for the 1p.m. tour a very enthusiastic gentlemen guided us towards their cozy and vintage tasting room. Four of their beers were given to us to taste. We were given their Pilsner, IPA, Lil Sumpin' Sumpin' and NightTime beers to taste. Their tasting room featured jenga, a racing video game and even a piano for guests to use.
Following the tasting portion of the tour we were guided around the brewery and informed about the various procedures they use to brew their beers. Our guide mentioned that Lagunitas had a whiskey they were working on. They also mentioned a new beer in the works that would be exclusive to Chicago only.  
Don't hesitate to go on this tour but remember you have to be 21+. The food was delicious at every location we stopped at. You will learn some cool information about a few neighborhoods in Chicago. The Lagunitas tour was very fun as well. The tour guides are very enthusiastic and that always leads to a better experience!