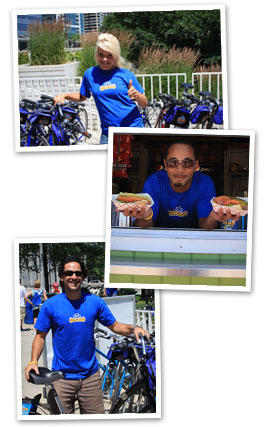 We offer the
following positions:
Please ask yourself the following questions to see if Bike and Roll is a good match for you:
Are you looking for seasonal employment?
Are you over 16 years old?
Do you enjoy working outdoors?
Do you have customer service experience?
Are you outgoing and friendly?
Are you hard working and energetic?
Are you honest and responsible?
Do you like to bike?
Are you passionate about a healthy/green lifestyle?
Do you enjoy interacting with tourists?
Do you want to have fun this summer?
If you answered yes to all of the above,
please complete the following Pre-Employment Application:
Bike and Roll is an equal opportunity employer and will consider all applicants for all positions equally without regard to their race, sex, age, religion, national origin, veteran status or any disability as provided in the Americans With Disability Act. This application will be given every consideration, but its receipt does not imply that the applicant will be employed.