Bike and Roll Chicago – Bike Map
Did you know that Chicago was voted the #1 bike-friendly city in the US by cycling magazine? Chicago's amazing lakefront boasts 18 miles of car-free bicycle paths, perfect for exploring all the top attractions in the city. Chicago also has hundreds of miles of paved bike lanes from which to explore our friendly neighborhoods. Use the bike map below to explore the city in the best way…by bike!
Chicago Lakefront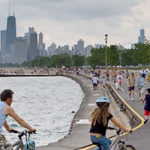 Chicago's amazing lakefront trail is a biking paradise! 18 miles of car-free bike path makes riding in the city easy and safe. Enjoy sandy beaches, scenic parks and spectacular views of the city and Lake Michigan. The lakefront trail is the fun way to see the sites and your connection to all of the best attractions in Chicago. Ride to the Lincoln Park Zoo and Conservatory, North Avenue Beach, Buckingham Fountain, Museum Campus, Soldier Field and more!
Wrigleyville & Andersonville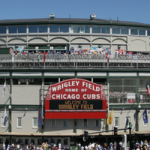 Wrigley Field is one of the must-see sights for anyone visiting Chicago. Built in 1914, Wrigley is the venerable grandfather of America's pastime. Ride up the Lakefront to Clark and Addison to see the Friendly Confines of Wrigley Field.
Andersonville is one of the most concentrated areas of Swedish culture in the United States, home to a charming assortment of locally-owned shops, restaurants and lounges. Treat yourself to a decadent snack at the Swedish Bakery (5348 N. Clark Street).
Lincoln Park Neighborhood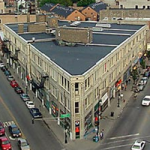 Lincoln Park offers an urban mix of trendy restaurants, eclectic boutiques, art galleries, bustling cafes, and bars. Enjoy beautiful residential architecture and upscale shopping on Armitage Street. Stop for some Italian ice at Annette's (2009 N. Bissell), or relax among the tin-man, lion, scarecrow and Dorothy at quaint Oz Park along Webster Street.
Lincoln Square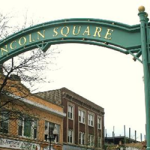 Lincoln Square is a small town within the big city. Quiet, tree-lined streets are home to public art, gourmet restaurants, European style cafes, delis and locally-owned specialty stores. Ethnically diverse, Lincoln Square was settled by immigrants from Germany, Greece, and Mexico who brought the character of their cultures to the neighborhood's businesses. The heart of Lincoln Square is on Lincoln Avenue between Lawrence and Leland.
Hyde Park & Jackson Park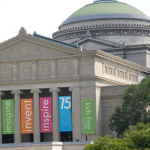 Before Barack Obama was elected as our 44th President, he worked at the University of Chicago in Hyde Park and resided in the Kenwood neighborhood with his family. Other great south side attractions include the University of Chicago campus, Rockefeller Chapel, Frank Lloyd Wright's Robie House, the DuSable Museum of African American History, the Osaka Japanese Gardens, and the Museum of Science and Industry. Rent a bike for the day and see all these great attractions.
Greektown, Chinatown & Little Italy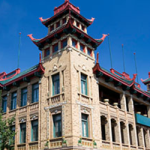 Greektown was established by Greek ship captains in the 1840s, and today is home to a collection of authentic Greek restaurants. Enjoy some Saganaki at The Greek islands (200 S Halsted). Opa!
Just southwest of Greektown resides the University of Chicago, Taylor Street, and the Little Italy neighborhood. Ride a little further south, and you will reach Chinatown. Make sure to visit tranquil Ping Tom Memorial Park along the river.