The city of Chicago bike sharing program launched today at several stations around the downtown area.
There has been a lot of confusion regarding the costs for non-members to use the bikes.
The kiosk says  "$7 for 24 hours*" the "*" is the key point of this as the $7 only covers the first 30 minutes of each trip. $7 may seem like a reasonable deal at first glance, what you'll quickly realize is that for longer, recreational rides, Bike and Roll Chicago is your top choice for price, bicycle selection, locks (so you can stop and check out the sites), helmets, kids seats, advanced reservations and more.
Check out this convenient chart we put together to compare the costs of the Chicago bike share kiosk bike rental vs. a bicycle rental with Bike and Roll Chicago.  As you can see a full-day (8 hour) bicycle rental from the bike sharing kiosk will cost you $119, whereas with Bike and Roll Chicago that same full-day bike rental will cost you only $32 – that's a savings of $77!
Ride More, Pay Less – Bike and Roll vs Bike Sharing Kiosks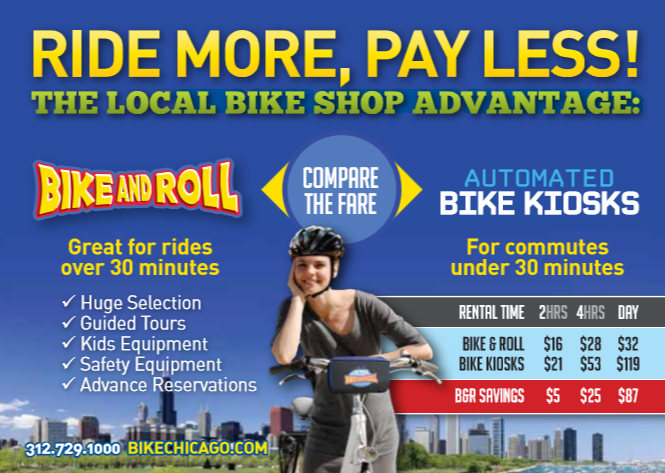 For more information or reservations please visit us online at bikechicago.com our online reservations portal here or give us a call at 312-729-1000